Projects
ARTiculate artists have been involved in a whole host of arts & community projects over recent years; here's a showcase of some of them!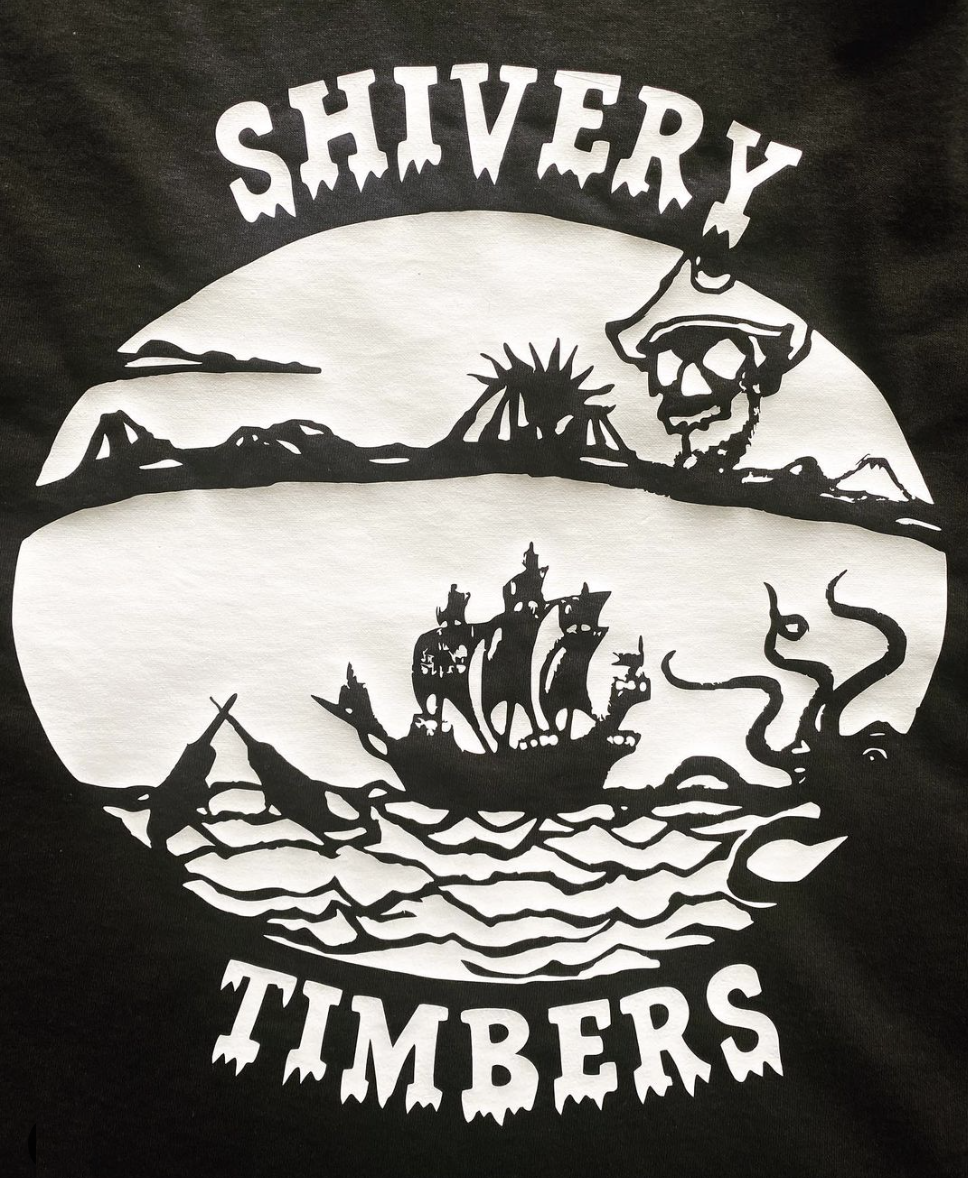 Shivery Timbers at NMMC!
Our
Shivery Timbers
musical
shadow puppetry show, devised and written by Reg, C'sh and Coz, performed to several thousand people of all ages throughout the October 2022 half term holiday at the National Maritime Museum Cornwall in Falmouth.
We'd like to thank our wonderful warm welcoming hosts at NMMC, who commissioned us to create the show - and our enthusiastic audiences, many of whom joined in with the chorus finale. The original songs from the show are now available to stream on Soundcloud: links below!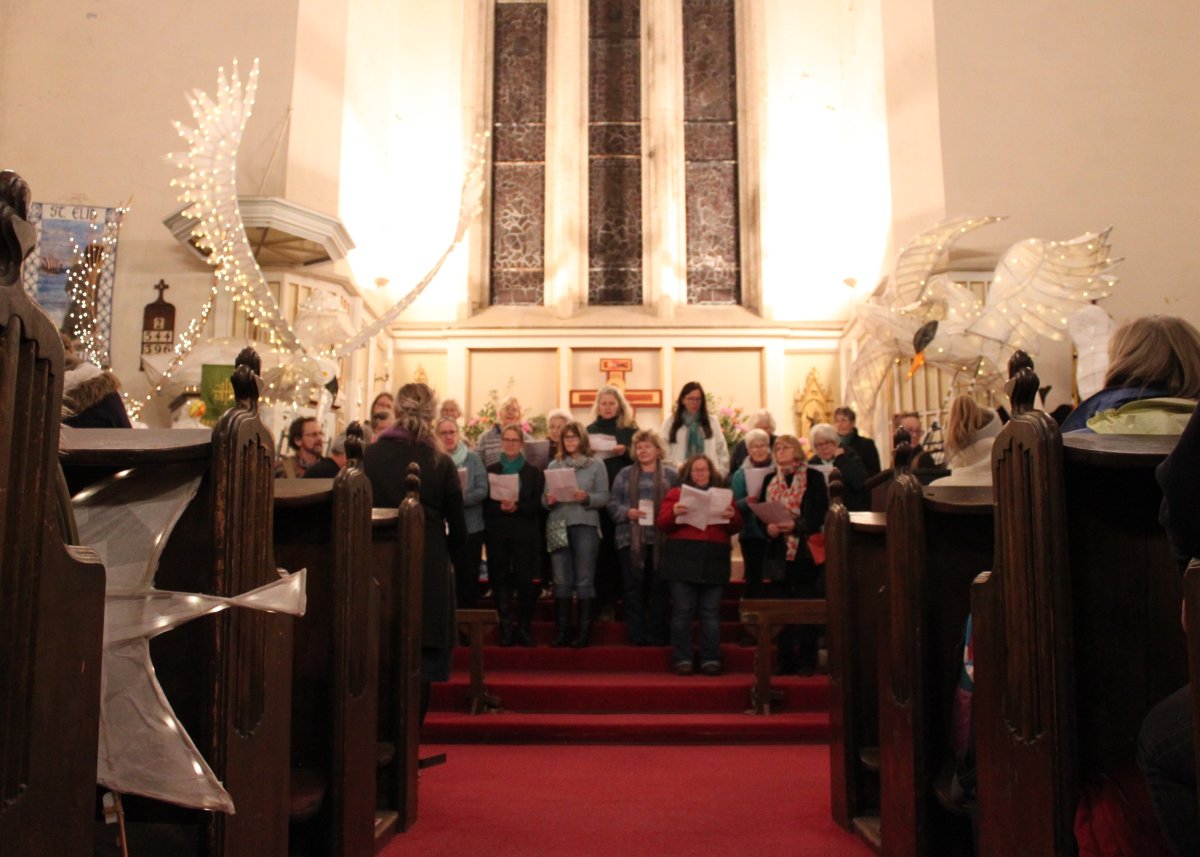 A Wider World: Island Light Festival 2022
28 February 2022

Celebrating how migratory birds connect us all and transcend imagined or political boundaries, our 2022 Island Light festival ran from 12-26th Feb through three extreme winter storms: the
culmination of months of planning, remote advance school sessions with young
leaders
& musicians, the development of
special
Bird
Passport
creative research tools, and two very full weeks of in-person School Project
Week and community creative
activity.
The
resulting
beautiful sculptures, music and more fed the project's two celebratory events: a shadow and music sharing in-school, and
a grand community finale in a church full of lanterns large and small,

music

and song with a host of voices and

instruments

, and with
a beautiful celebratory cake with all the migratory birds on it in icing!
With huge thanks to Arts Council England, FEAST,
IOS Chaplaincy, Five Islands Academy, IOS Steamship Co, The Edward McDonald Trust, IOS Council, Islands' Partnership, IOS Police, St Mary's Library, Co-op Community Fund, IOS Wildlife Trust and IOS Bird Group.
More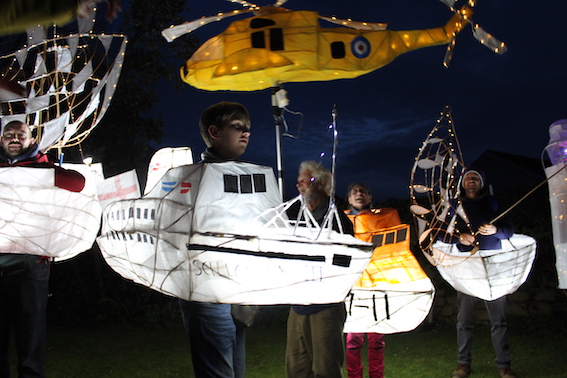 LIFE LIGHTS Island Light Festival: 2020
Our recent 'LIFE LIGHTS' Island Light Festival involved hundreds of local people aged from 1 to 90, celebrating the incredible life preservation heritage of the Islands and the special place this aspect of life plays in their culture.
Supported by Arts Council England, FEAST, Isles of Scilly Steamship Community Fund & Innes Architects and working with Five Islands Academy, St Mary's Library, Scilly Chaplaincy, Islands' Partnership, Phoenix Studios, St Mary's Brownies, and a host of other community members and organisations, ARTiculate brought a much-needed two weeks of community and schools arts & creative activity to the Islands during the most challenging point of the year, shining a light on the darkest days and bringing everyone together in a shared celebration of their community and heritage. A culmination of the wonderful schools Project week with a schools sharing at Carn Gwavas on February 14th was followed by a fantastic illuminated community celebration on St Mary's on February 22nd, 2020, which brought together hundreds of wonderful local creations, large and small, some of them unique wearable ships, lighthouses, and buoys, for a very special procession through the streets of Hugh Town, and culminating in a fabulous and unforgettable cake finale at the Scillonian Club! More on our Island Light Festivals
here
.
FIRE & STEAM: BikeLights 2019
ARTiculate Core artists Laura Frances Martin and Reg Payn were very involved in the annual BikeLights project again in 2019 working with Wadebridge Creative Hub, this time linking it with FIRE & STEAM, an ambitious, extended wrap-around heritage & arts project supported by The National Lottery Heritage Fund, Arts Council England and FEAST.
As well as providing BikeLights 2019 with its theme, FIRE & STEAM also brought BikeLights to Bodmin for the first time, linking the towns through their unique railway heritage and involving a whole host of partners in this spectacular bicycle based processive event with an impressive steam finale.
Celebrating one of the earliest steam railways in the UK that linked the towns from 1834 until 1978, the project has involved an amazing range of participants and audiences through its developed BikeLights activity, and continues on to the end of 2020 with further school & community heritage visits, the creation of new heritage information & displays for local sites and museums, a young entrepreneurs project in secondary schools and with Bodmin College's FdA Digital Media Year 1 students, and the establishing of a new heritage and arts 'trail' that will share this amazing heritage more widely. Partners include Wadebridge and District Museum, Bodmin & Wenford Railway, Concern Wadebridge, Wadebridge Dementia Action Alliance, Bodmin College, IntoBodmin, Bodmin Town Council & Museum.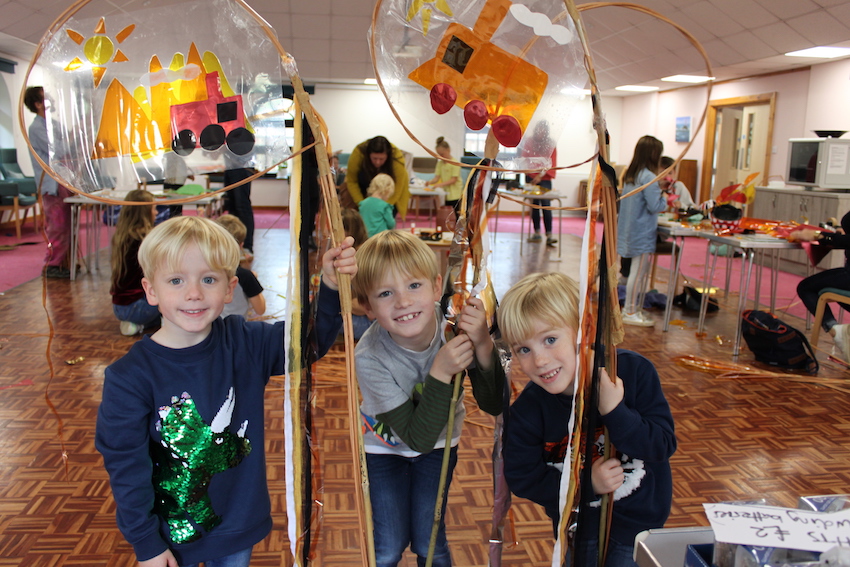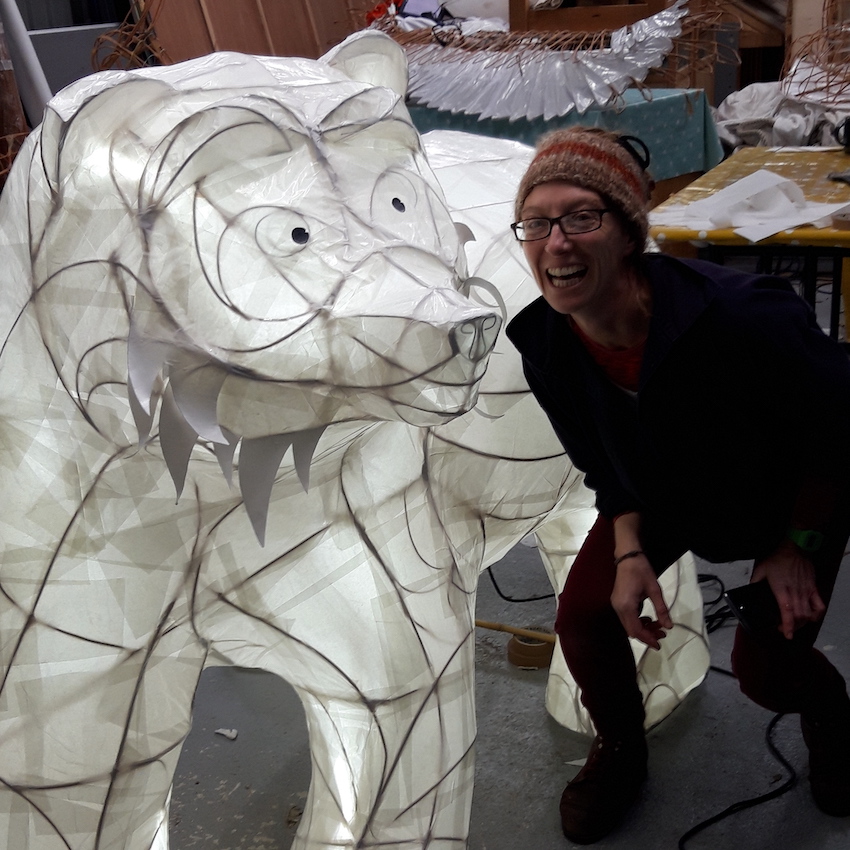 Eden Endangered: 2019
ARTiculate artist Reg Payn was commissioned by the Eden Project in Cornwall to curate a team of artists to produce a series of light installations of 'creatures on the brink of extinction' to form the centre-piece of Eden's Christmas Illuminations for 2019. A giant Condor by Core artist Reg flew high in the Mediterranean Biome from Nov 29th to January 30th, alongside other stunning light sculptures of endangered species from around the globe - including Core artist Caroline Cleave's Orangutan, and Associate artist Jill Hudson's beautiful Bear, left! Talented local artists Janice Bell, Si Aylett, Ashleigh Argent-Howard and C'sh Lee created a wallaby, turtle, parrot and giant tortoise respectively.
Lanterns & Lights: National Maritime Museum Cornwall 2019
The National Maritime Museum Cornwall commissioned ARTiculate artist Reg Payn to create a giant Packet Ship lantern for the Falmouth lantern parade on 28 November, which was suspended in pride of place afterwards amongst other real vessels during the 2019 festive season in the Maritime gallery.
Forming part of the Lanterns and Lights festivities, the Packet Ship took pride of place especially during the Make & Take workshops, where children were able to make their own mini ships to take home.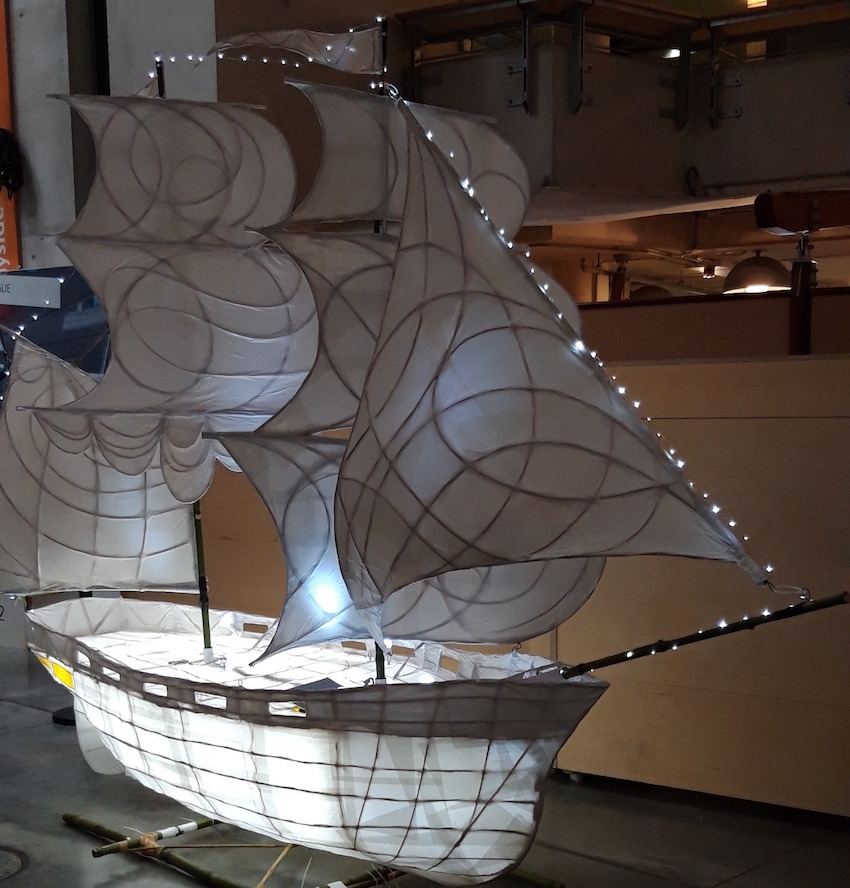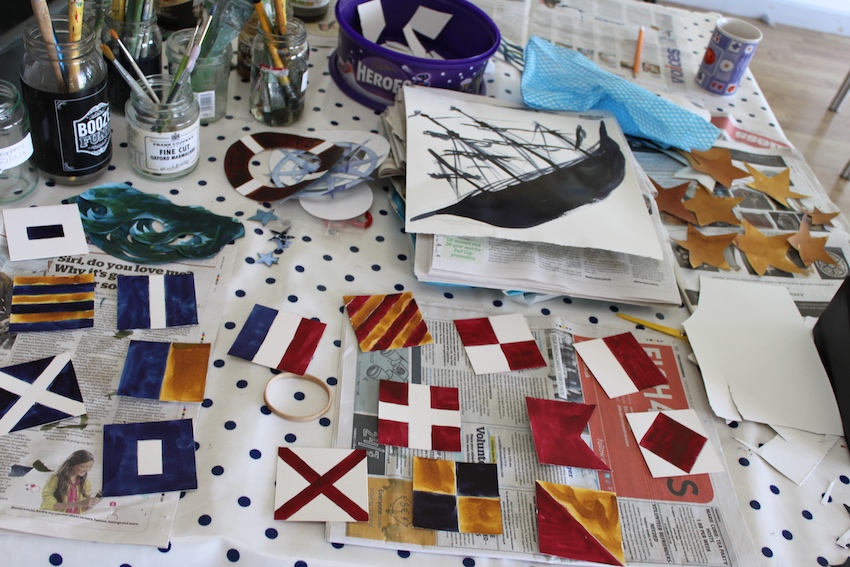 Semaphore Stories, Scilly: 2019
Thanks to our long-established connection with the Islands, Mayes Creative invited ARTiculate artists to collaborate on the development of a special residency on the Isles of Scilly in May 2019, which also formed part of the first Creative Scilly festival organised by the Islands' Partnership.
Core ARTiculate artists Laura Frances Martin, Reg Payn and Imogen Bone worked with members of the community over a long weekend in mid-May, inspired by stories the team had researched of amazing wrecks & rescues of the many ships that have foundered on the dangerous rocks off the Islands, and the interesting cargoes that have variously washed ashore - including cows, high class millinery, and more! Locals aged from 4 to 70 worked with the team to design and create beautiful imagery that visually retold those stories, using heat transfer dye methods to transfer their designs on to silk fabric. The resulting fabric banners were crafted into circular lanterns and used to retell these fascinating stories during a special public sharing event at the Chaplaincy Pavilion.
The residency was co-produced by ARTiculate and Mayes Creative, and formed part of their Lizard Beacons project funded by The National Lottery Heritage Fund, The Big Lottery Fund and the Isles of Scilly Steamship Co. Community Fund.
Flying Circus! BikeLights 2018
ARTiculate were very involved in BikeLights in 2018! Core artist Reg Payn won a commission to create his idea for a bike-based cycling Dodo lantern, and Associate Jill Hudson also created a fabulous Strongman commission for this fantastic bike-based processive illuminated event, which is run by Wadebridge Creative Hub and which usually takes place in Wadebridge in mid October each year. Due to take place on October 13th 2018, the event was postponed until January 26th 2019 because of very bad weather.
ARTiculate's Laura Frances Martin was producer of the event for the first time, after her involvement as a successful commissioned artist on it in the three previous years; fundraising, leading on publicity, organising & co-delivering the community and education programme.
The community programme and the delayed event (postponed due to extreme weather!) were a big success, and feedback was very positive. You can read more about BikeLights and the Hub at wadebridgecreativehub.co.uk. Big photo thanks to James Pearce, LexisPlace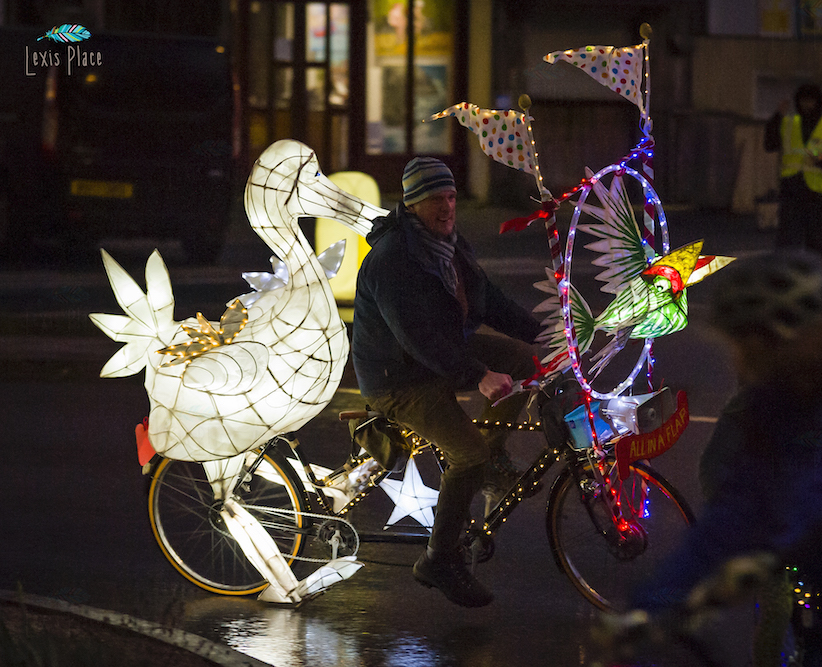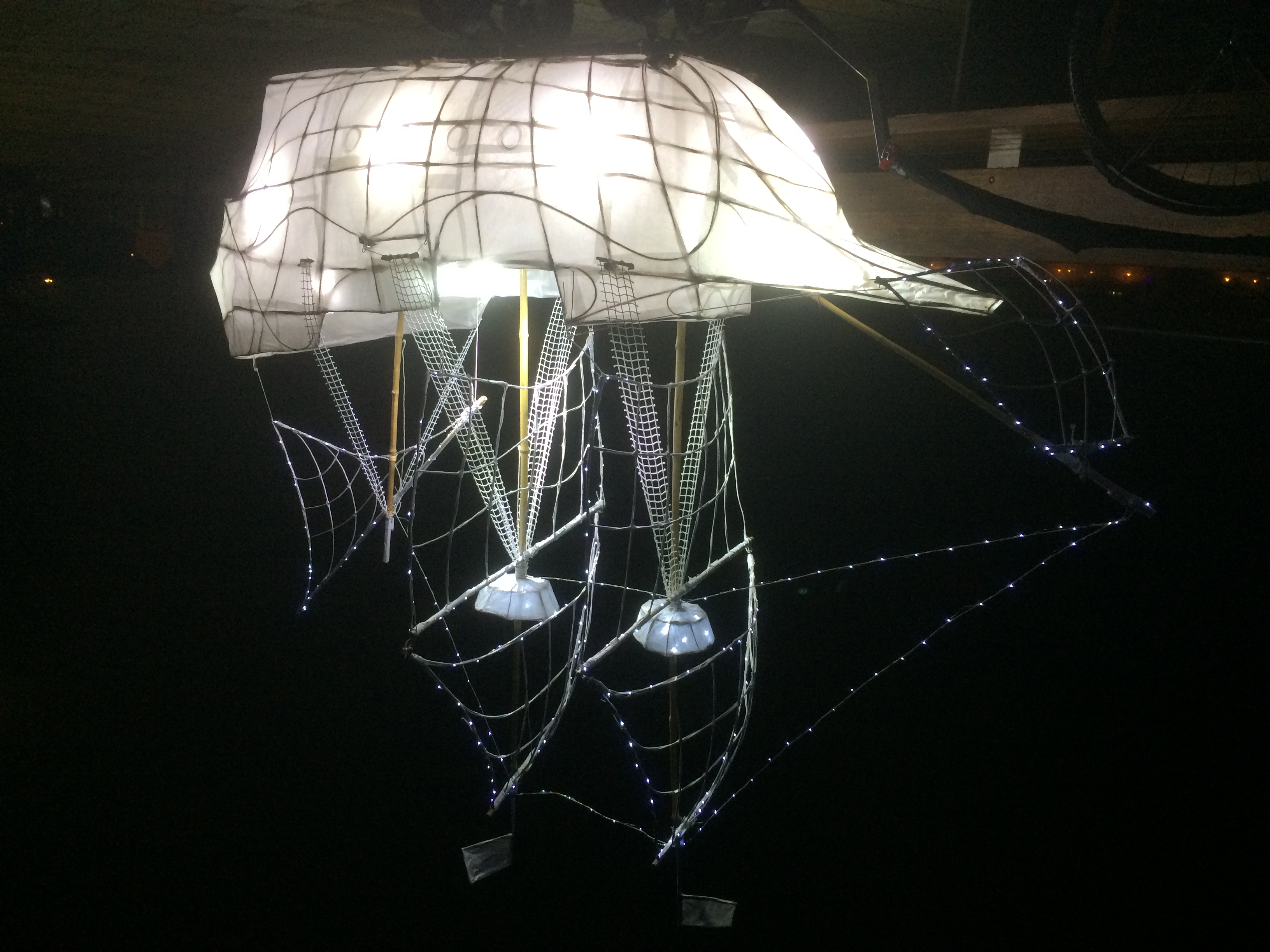 Illuminate Festival Plymouth: 2018/2019
ARTiculate's Laura Frances Martin won a commission to create a new roving work for Illuminate Plymouth 2018, which was invited back to exhibit again in 2019. 'Voyager' - a 3m x 3m ship lantern, built on a trailer and bicycle and designed to 'sail' around the Royal William Yard Plymouth site to engage with audiences over four days in each festival - is a replica of the original Mayflower, which transported the Plymouth Brethren across the Atlantic to what would become Plymouth, Massachussetts, USA, in the autumn of 1620.
Building up to a series of massive, multi-site Mayflower400 celebrations in 2020, a partnership of Plymouth based cultural and civic bodies - including RIO, the commissioning organisation for Illuminate's light and projection practitioners - have been working to make this exciting commemoration happen year on year since 2017. The postponed final Illuminate festival in Plymouth will now be taking place in late 2021; you can read more at
illuminate-festival.co.uk
Port Isaac Christmas Lights & Bodmin Lights Up! 2016/2017
ARTiculate artists Caroline Cleave and Reg Payn produced the annual Christmas lantern parade in the village of Port Isaac in North Cornwall for both 2016 and 2017, in collaboration with Bodmin Lights Up! Themed on 'I Saw Three Ships' in 2017, and 'Angel' in 2016, the village festivities saw children's smaller lanterns created in schools workshops with Reg and Caroline, along with projections that were shown within the Angel structure, created by artists Clare Summerson and Pete Cole.
Two of the three large ships were created in Bodmin College's art department by Reg Payn working with KS3 students, and one created by Reg and Caroline in Caroline's Port Isaac studio. The larger lanterns were also shown again in 2016 and 2017's Bodmin Lights Up! festive events.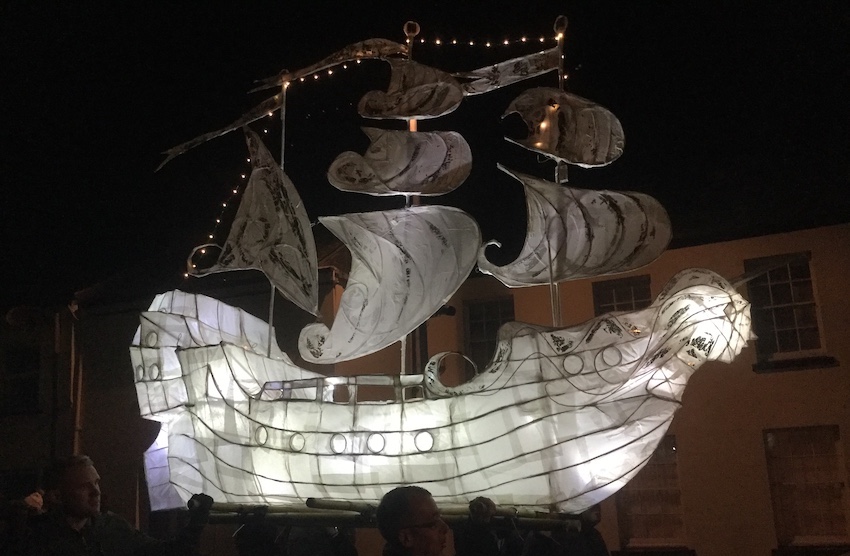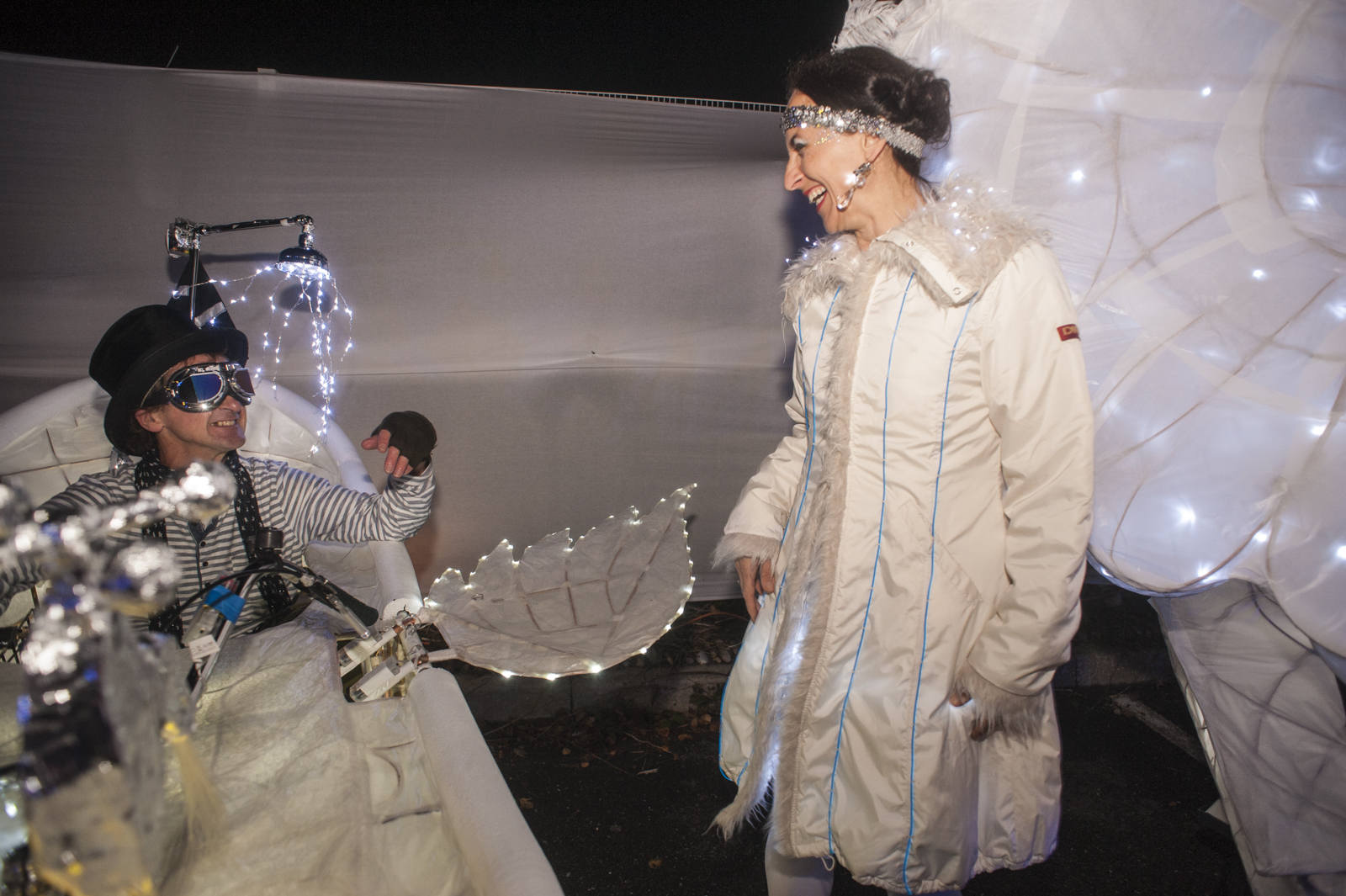 BikeLights 2016: Marvellous Machines!
ARTiculate artists Reg Payn and Laura Frances Martin both won commissions for the BikeLights illuminated festival in Wadebridge in 2017.
Themed on Marvellous Machines, Laura created a giant travelling 'Glamophone' complete with Muse, in a highly lit costume inspired by the Spirit of Ecstasy, and Reg bathed in glory in an illuminated Flying Bathtub; both appeared in the magical illuminated procession through the town on October 15th and at the end parade.
Photo by Simon Stuart-Miller; with thanks to Wadebridge Creative Hub for photo usage
BikeLights 2015: Circles & Cycles
In October 2015 Laura and Reg of ARTiculate were commissioned to create new roving, moving lanterns for BikeLights in Wadebridge... Laura's illuminated cycling bear with ring mistress, and Reg's fabulous Moon and stars combo, were part of the second ever BikeLights event, run by Wadebridge Creative Hub and with hundreds of participants and spectators turning out to enjoy the lovely processive event through the streets of the North Cornwall town. Reg also worked with a number of local schools to create mini-builds for the parade!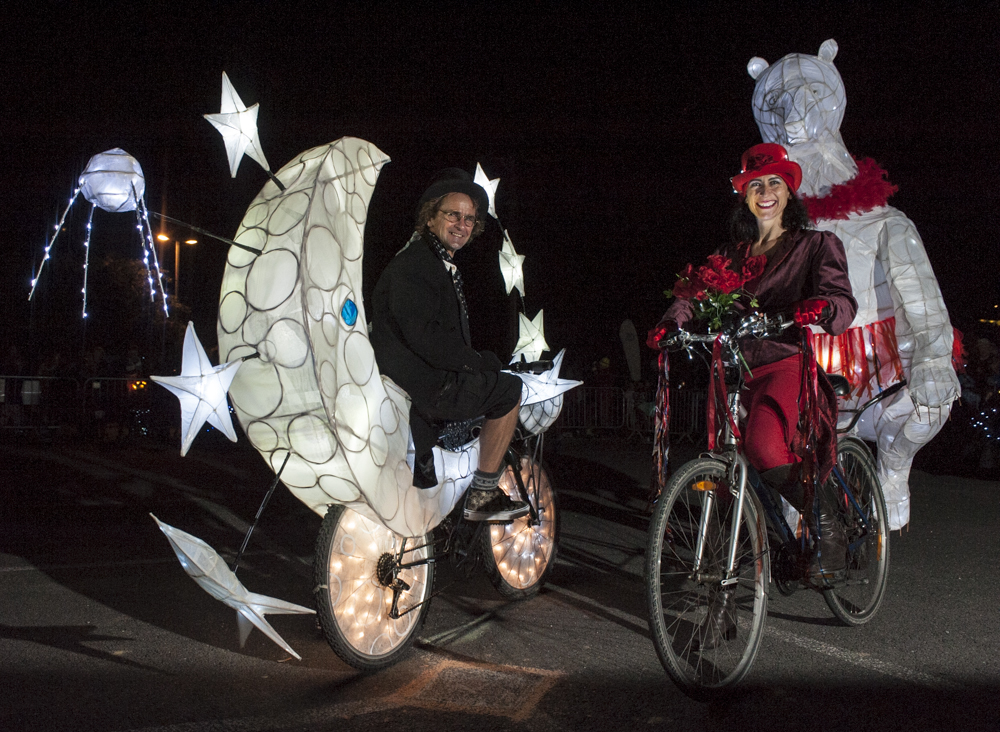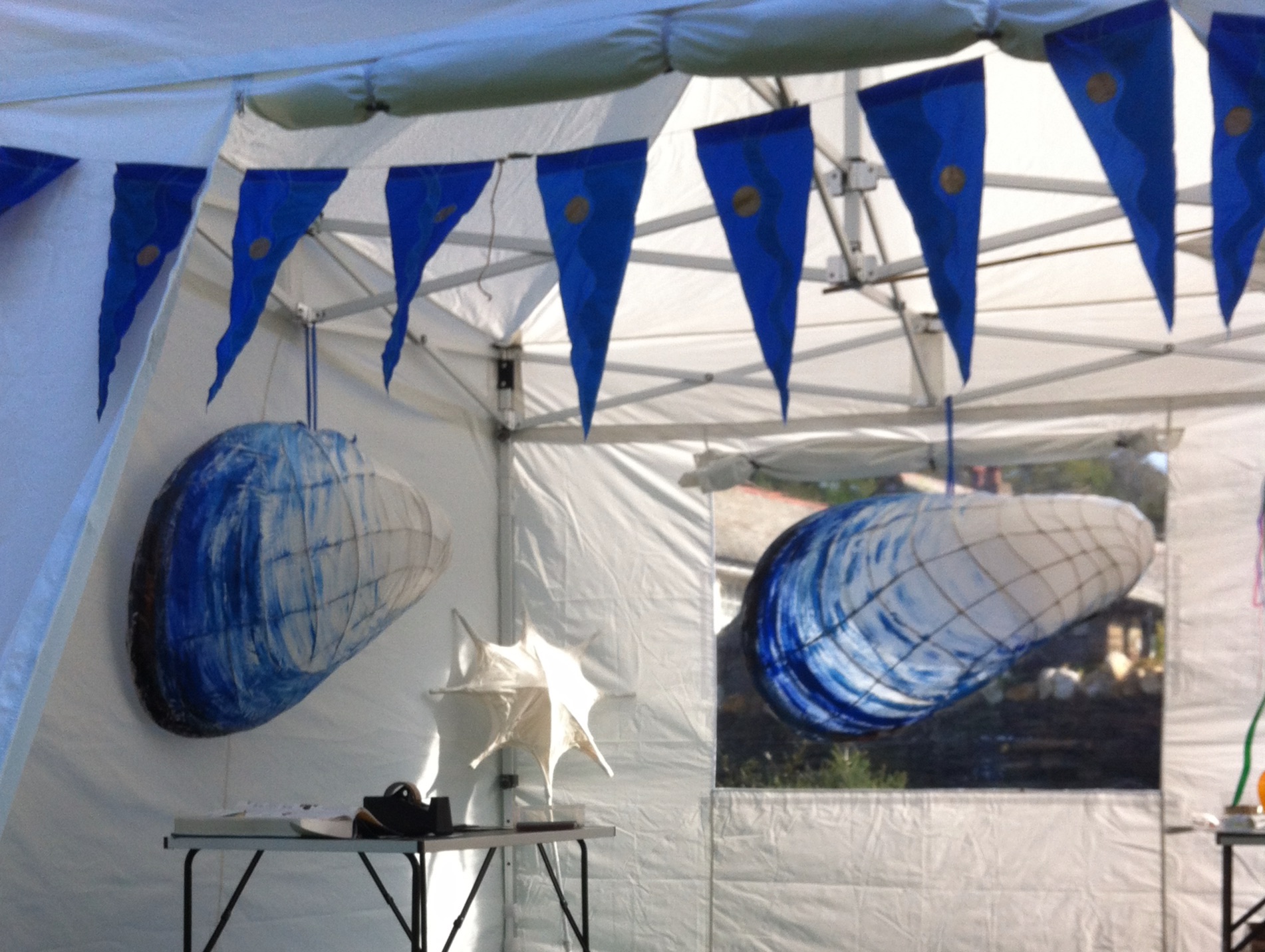 Boscastle Festival: 2015
After being invited to run community willow workshops for the July 2015 Boscastle 'Duck Race Day', ARTiculate artist Laura Frances Martin was asked back again on behalf of ARTiculate to run two full days of workshops and organise two mini-parades to enhance their annual Festival of Food & Drink in October 2015.
Over two hundred children and their families came to the festival workshop marquee in the Harbour, creating silver fish and jellyfish from recycled materials and helping decorate two giant mussel shells, which were worn for the two lovely mini-parades by some very game parents!
Big thanks to Lesley Walker of Boscastle Arts for her hard work in organising the extra cultural activities, and to FEAST Cornwall and Boscastle Festival Committee for supporting.
Bodmin Lights Up! 2015
Building on the success of 2014's Bodmin Lights Up, once more ARTiculate artists were involved in the town centre lights celebration, creating some wonderful lanterns for the annual festivities. Terrible weather meant the parade was postponed until December. Here's a sneak preview of some of the stunning lanterns created for this year's parade waiting in the wings at Bodmin College for their moment of glory!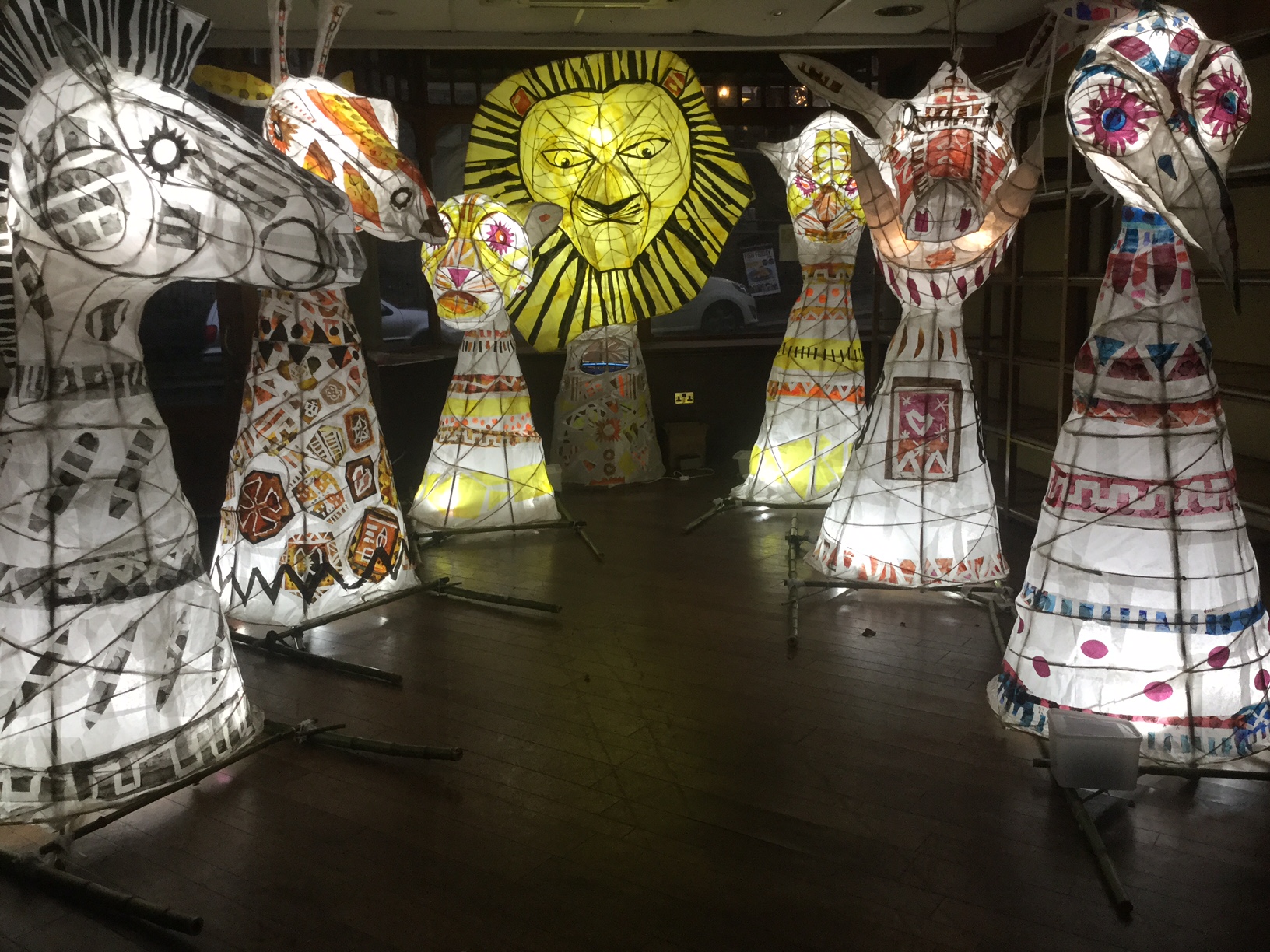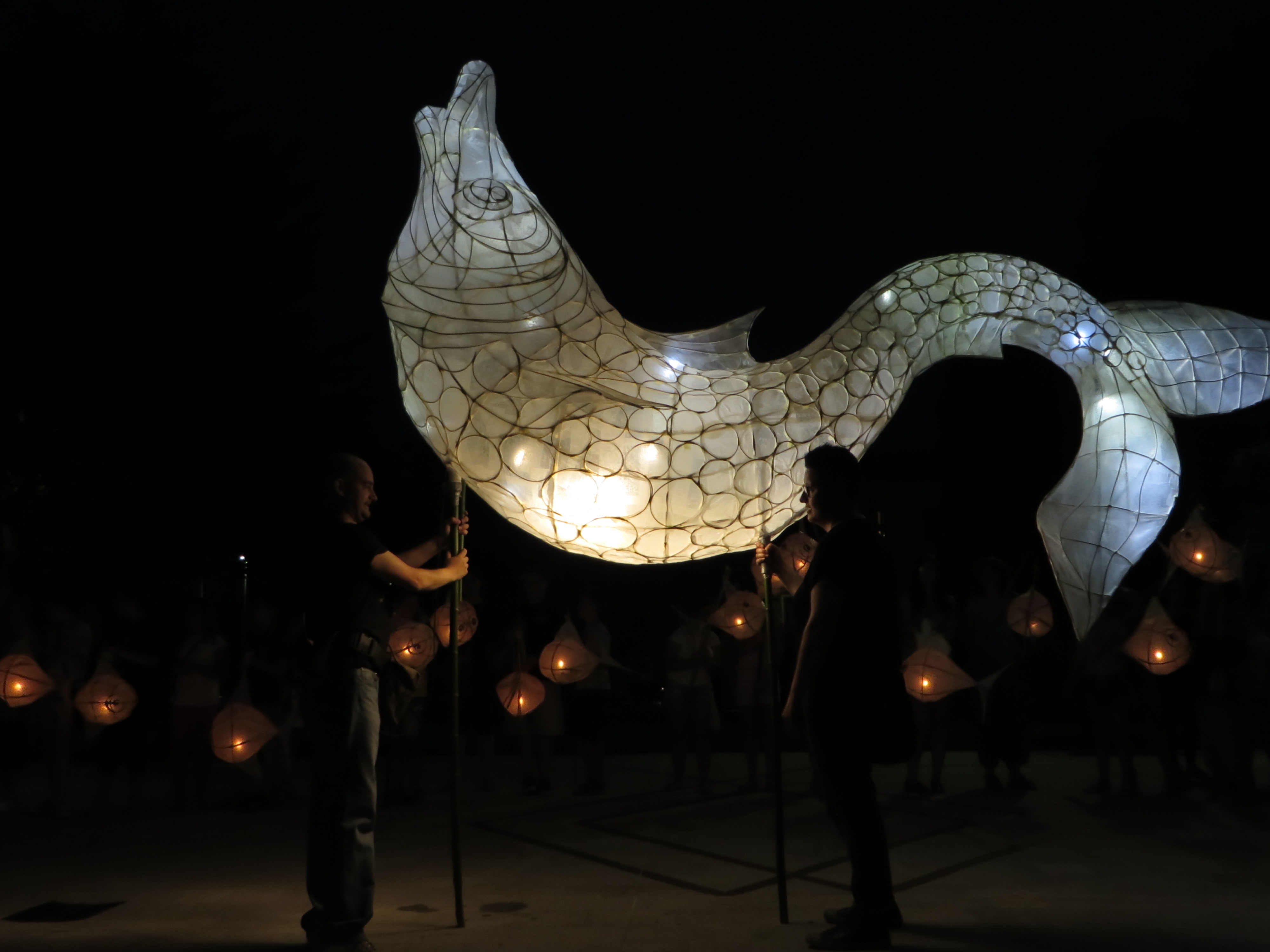 Teatri di Pace: The Italian Job! 2015
ARTiculate artists Clare Summerson, Caroline Cleave and Reg Payn participated in an exciting arts festival in Italy in summer 2015, after an official invitation from the local Mayor himself.
The towns of Alano Di Piave and Qero-Vas on the edge of the Dolomites played host to this major festival, entitled 'Teatro di Pace' ('Theatre of Peace'), in July 2015, and ARTiculate were approached more than a year in advance by internationally renowned puppeteer Paolo Rech to enhance and collaborate on this exciting festival, celebrating the conection of the two towns with the opening of a new bridge over the river gorge. The area is steeped in history and the river itself played a key part in the creation of the City of Venice, as the key conduit by which timber was brought to the city to use in the construction of many of its historic buildings.
ARTiculate artist Clare Summerson undertook a recce to the area in summer 2014 and began work with local community groups to scope the working process. An unforgettable week of workshops in Alano Di Piave and Quero-Vas, with students from the Summer Schools and the wider community at the newly restored Paper Mill gallery, culminated in two torchlit processions, one led by a huge fish and the other by a Siren from local folklore. Accompanied by bands and strolling musicians, the two processions and their lanterns joined at the river crossing to form a single gigantic mermaid, who presided over an evening of song and merriment. The lovely people of Quero-Vas and Alano Di Piave warmly welcomed us into their enthusiastic and caring community. We were amazed and delighted by their polite, helpful, sharing, creative children.
The Gurt Pasty, Eden Project: 2015
ARTiculate artist Reg Payn was commissioned to create a 'Gurt Pasty' for the fourth ever World Pasty Championships held at the Eden Project in February 2015.
Eden's Head of Communications David Rowe approached Reg to create the sculpture after conversations with Jon Cleave of the Fishermen's Friends, who were topping the bill at the 2015 event. As the Eden Project is based in Cornwall, their World Pasty Championships celebrate the traditional Cornish pasty recipe as well as some more unusual varieties. From the Americas to Australia, pasties derived from recipes passed down by Cornish emigrants over centuries are eaten and enjoyed by many millions of people.
The Gurt Pasty took pride of place over the main stage for this, the fourth year of the championships, and has done so every year since then!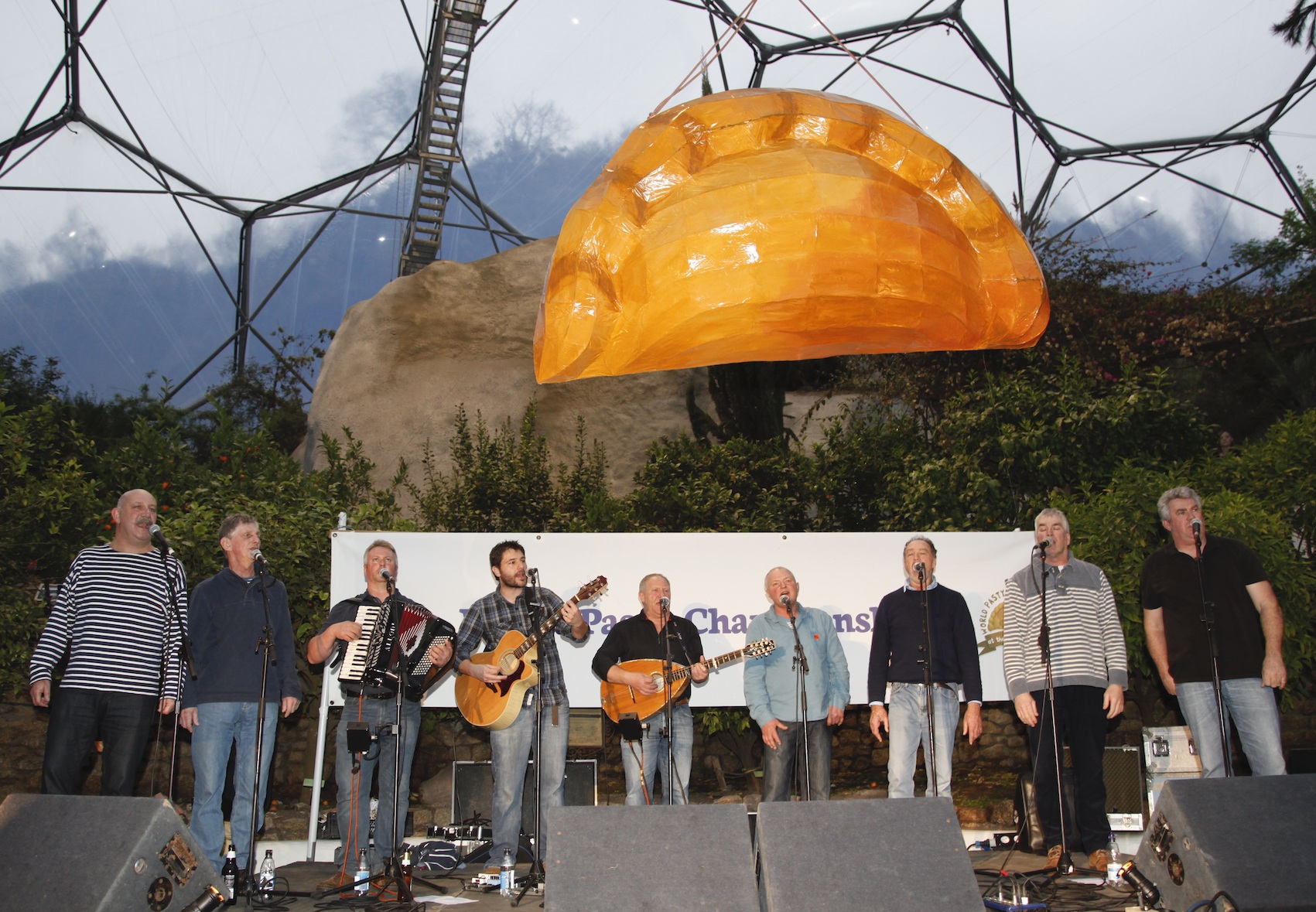 Lostwithiel Dickensian Eve: 2014
ARTiculate artists Reg Payn and Clare Summerson were commissioned by Kat Smith and the Lostwithiel Business Group to design and build a grand processional image for the Lostwithiel 'Dickensian Night' on 11th December 2014. Isambard Kingdom Brunel cut a fine dash with top hat, pocket watch and cigar as he flew through the appreciative Dickensian-dressed crowds!
Bodmin Lights Up! 2014
ARTiculate artists and the Lovely Foundation were engaged to enhance Bodmin's Christmas Lights event in November 2014, creating a festive event that would captivate and engage the entire community and fill the Folly Square for their big Switch-on moment.
Artists and singing leaders devised a programme of lantern making events, stained glass workshops and singing sessions that took place in local primary schools and Bodmin College, as well as a drop-in day for the local community, after consultation with the council, schools and community groups involved. Classes in each primary school - Robartes, Berrycoombe, St Mary's, The Beacon Infants and St Petroc's - made small coloured pyramid lanterns for the parade, and were also invited to take part in a number of singing assemblies. Classes from the infant schools also made more than 100 festive 'stained glass' scenes, which adorned the upper windows of the Shire Hall during the event. Lyrics were handed out to the public, enabling a massed choir to sing three carols together at the end of the night. Other groups that took part included Kickback Street Dance Group, Bodmin College Art students, members of Bodmin Town Band, Bodmin College Jazz Band, and members of Youth Music & Cymaz groups Exchanging Notes programme, which is about providing opportunities for young people in challenging circumstances.
Artists included Caroline Cleave, Reg Payn, Karen Bessel, Clare Summerson, Emma Mansfield and Terry Mansfield, along with music leaders Giles Wooley, Kyle McGill and Ben Vincent. The event and workshops were funded by Bodmin Town Council, FEAST and Cornwall Community Foundation, with sponsorship from Proper Cornish, Barnecutts and the Property Shop; support in kind came from Bodmin College via marketing, stewarding, musical direction and lighting & PA equipment. The event was a success. Bodmin's Mayor said: "The biggest turn out we've ever had." Other quotes from the workshops and event included: "Lots of messy fun and enjoyed working with willow. Great craft level for parents to do with children, thanks a lot!" "Fantastic session, very well organized and enjoyable, it's lovely to see community events and so many people contributing to the success of the event, thank you" "Thank you so much, the boys really loved it, you are all fantastic! Looking forward to next week" Sarah, Monty and Beau "Thank you for a fab start to the festive season!"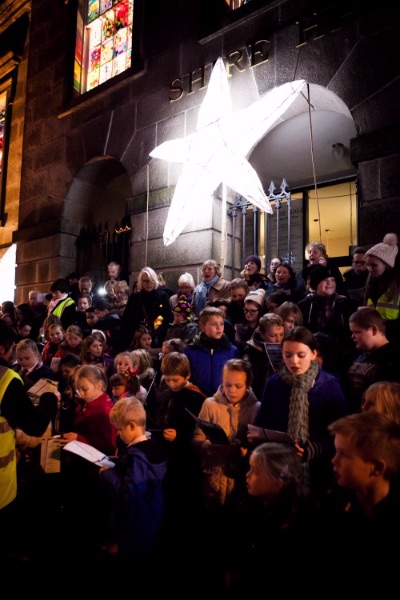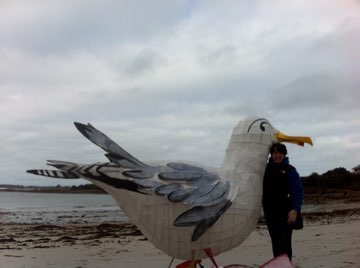 BIRDS! Isles of Scilly Island Light Festival 2014
ARTiculate artists Reg Payn, Clare Summerson, Caroline Cleave and Carol Whibley, supported by Emma Mansfield of 'Lovely Little Books' and Jon 'Gully' Cleave, travelled to the Spectacular Isles of Scilly for our second bi-annual 'Island Light Festival', a Celebration of coming Spring Light and Regeneration.
This year's theme was 'BIRDS', linking in with the Seabird Recovery Project and linking up with inspirational Island Artists Imogen Bone and Oriel Hicks, who constructed a giant rat and phoenix. Islanders turned out in great number for all the workshops that were held throughout the week, amid fluttering flags and billowing bunting, on St Mary's… community lantern making, storytelling, illustration, singing, and poetry, whilst at the same time the team began the task of having 5 Giant bird lanterns ready for the weekend. A hair-raising boat trip was needed for the 'Extreme Shadow Puppetry' on St Agnes (hosted by Nikki Anderson of the Turks Head) where local children devised, made and performed an amazing shadow play recounting a strange tale of guinea pigs, pirates, mermaids and shipwreck.. and made some mini lanterns too, all in the space of 3 hours! (Nikki's curry was Extremely tasty too!) Jon and Emma organised 'Mares' Tales and Mackerel Scales' at the Bishop and Wolf.. an 'open mic' evening of bawdy ballads, saucy shanties, anarchic anecdote, local lore and much much more; plus an afternoon of tea and songs with the local elders at the 'Memory Café' plus writing and rehearsing the 'Gully Song' during storyboarding sessions with local children plus rehearsing songs with Island singers. The stormy weather came and went during the week and blessed us with a perfect day for the GRAND SPECTACULARI on Saturday night. Five massive birds pursued the gigantic red-eyed rat through the streets of Hugh Town, accompanied vocally by Emma, Jon and a choir of local singers, harried by a host of candlelit Puffins and swooping seabirds who led all to a fantastic firework finale at Town Beach. This year's 'Island Light Festival' poster was designed and produced by Holly Summerson. The Festival was co-ordinated on Scilly by Joel Williams and generously supported by the Council of the Isles of Scilly, RSPB/Seabird Recovery Project, AONB and FEAST.
Shadow Puppets, Princess Pavilions: 2014
After the success of previous performances, ARTiculate artists presented a musical excursion into the realms of shadows, puppetry and storytelling. Experienced artists and talented local children collaborated to bring stories to life with ingenious puppets and creative soundtracks at this fantastic Falmouth venue.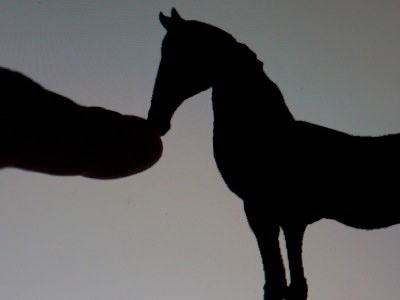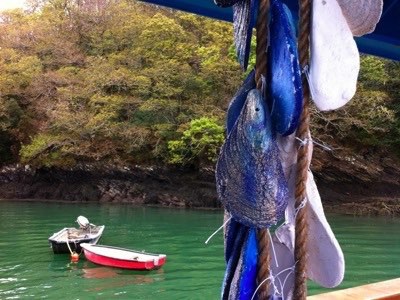 Mussels On The Fal: 2013
In early 2013, up against 24 other parties, ARTiculate bid for and won a commission to be the Artists in Residence for the Truro & Penwith College Fal River Fest 2013.
We struck up partnerships with three different partners with venues in and around Falmouth, holding free mussel casting and painting workshops for the public in each venue during the festival week. Workshops took place at the Prince of Wales Pier, Kimberley Park Gardens, and at NT Trelissick. Participants ranging from two to 82 enjoyed casting mussels of different sizes in plaster of paris and painting them with acrylic paints, some authentic-looking mussels and others in a vivid selection of colours and patterns.
The beautifully-decorated mussels that resulted were attached to hemp ropes, emulating the mussel-laden ropes that hang beneath the River Fal - the inspiration behind the whole idea for the bid, at the mussel farm adjacent to the King Harry Ferry. The finished works were then displayed on the Ferry itself for several weeks for passengers to enjoy while on their travels.
We loved being part of the festival and were delighted with the response we received and hugely grateful for the assistance we received too - especially to the King Harry Ferry and to each of our workshop partners.
Isles of Scilly Island Light Festival: 2012
ARTiculate artists helped to establish the first Isles of Scilly lantern Celebration in February 2012. The Island community came together to create fabulous fish and boat lanterns as well as help with 3 big builds. Emma Mansfield formed a processional choir who performed along the route of the procession. The evening ended with fire sculptures on the beach followed by supper feast in the Community Centre. We also had a day on St Agnes where we were given a warm welcome at the Turks Head. A full day of building lanterns, constructing fire sculptures followed by the making and flying of kites. At the end of the day we held a mini lantern procession, flew illuminated kites and burnt the rather damp fire sculptures. It was a brilliant day.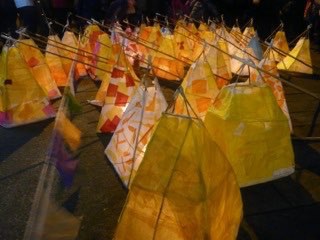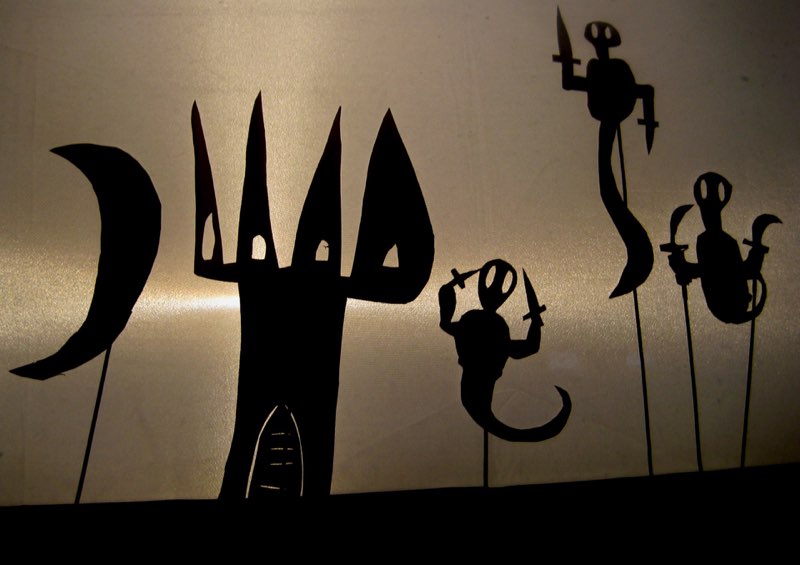 Shadow Puppets at Princess Pavilions: 2011
Shadow puppets can be an amazingly simple but stunningly effective way to illustrate stories and ideas. ARTiculate transformed the entire bandstand at Princess Pavilions into a beautiful 360 degree shadow puppet theatre in October 2011. We worked with 4 local primary schools creating unique new shadow story-plays, all performed one crisp October evening with an improvised live musical score by the talented Joanna Tagney to a very appreciative audience.
This hugely successful event led to ideas for future events, with plans to develop the idea and run it again in the future.
Big Mack at Rock Oyster Festival: 2011
Big Mack was created by the ARTiculate team in Port Isaac in time for an inaugural appearance at the Rock Oyster Festival in June 2011. The brief was to create a sculpture that captured some of the spirit of the celebratory weekend event, forming a centre-piece for creative workshops and events in the main covered space.
Suspended above the main stage in the largest marquee on site, the mackerel attracted great interest at the Rock Oyster Festival - and has since made guest appearances at many other events in and around North Cornwall!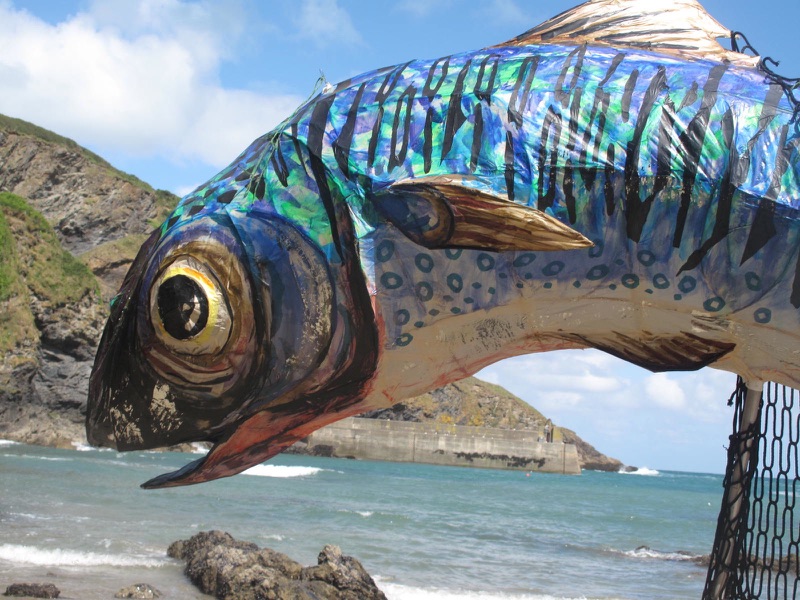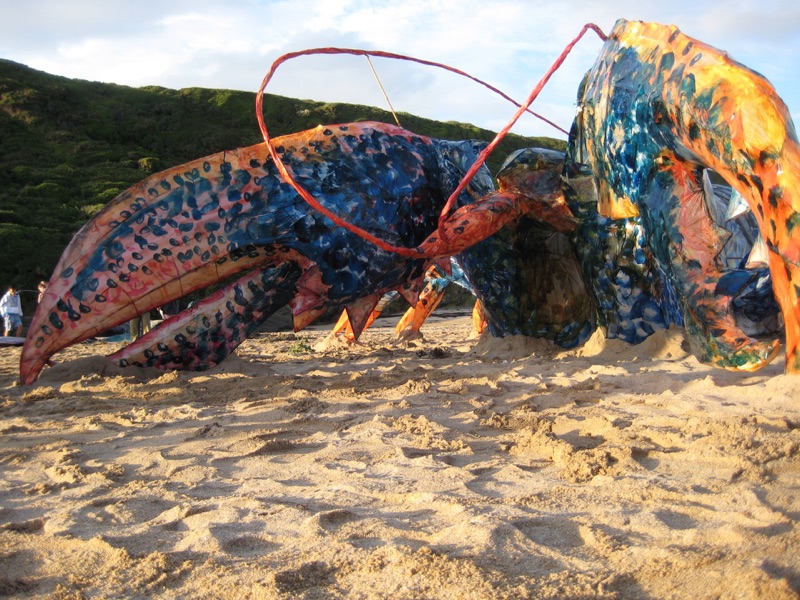 Giant Lobster at Porthcothan: Big Sing 2010
ARTiculate artists were invited by KEAP and the City of Lights organisers to make a giant Lobster for the first Big Sing on Porthcothan beach in July 2010.
Created in Caroline Cleave's Port Isaac garden and studio, the giant sea creature was jointly designed and created by a number of people over the course of a week, and finished and transported to Porthcothan in time for the celebratory event. This community sing on the beach at Porthcothan was the finale for the Darke Visions festival, celebrating the life and works of late Cornish playwright Nick Darke. The evening included community, school and male voice choirs and finished with joint singing of The Lobster Song by Nick Darke and Jim Carey - and the burning of the beast!